The Washington Center Application and Interview Process

The Washington Center for Internships and Academic Seminars is an independent, nonprofit organization serving hundreds of colleges and universities in the United States and other countries by providing selected students challenging opportunities to work and learn in Washington, DC for academic credit. The largest program of its kind, The Washington Center has 70 full-time staff and more than 40,000 alumni, many of whom are in leadership positions in the public, private and nonprofit sectors in the United States and around the world.
Students interested in an internship with The Washington Center will go through a four-step process:
1. Submit an Application
Submit application materials (see below), including recommendation forms and letters from three references, to the campus liaison, Dr. Jay Self, by the appropriate deadline.
2. Complete an Interview
Complete a personal interview with the TWP Advisory Board. The board consists of a few Truman faculty members.
3. Finalize Everything! 
Work with the campus liaison to finalize your application materials.
4. Send the Materials to The Washington Center
Materials are sent to The Washington Center. Normally, students who are accepted by Truman will be accepted by The Washington Center.
*Note: After being accepted, you will be assigned to a Washington Center advisor who will then send your information to organizations that you are interested in working with, and also to others which he/she thinks you are qualified. He/She will also guide and assist you through the interview and internship process with each company and/or organization.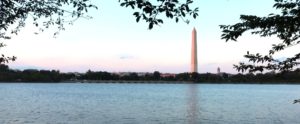 Washington Center Application Requirements
A. Completed online Application Form, which includes:
A one-page

resume.

A copy of your transcript (a copy of DegreeWorks will work at first, but you will need to order an official copy of your transcript for the Washington Center).

An issues essay

, not to exceed 500 words, discussing one major issue related to the field in which you wish to work. Include your personal views.

An internship interest statement

, not to exceed 100 words, describing your academic, professional and personal goals for the internship area you prefer.
 B. Three confidential letters of recommendation submitted together with cover forms.
These should be from faculty or employers; however, at least one recommendation must be from a Truman faculty member.  You should contact your recommenders as soon as possible and give them the recommendation form.  All letters should be confidential and the recommender should preferably send the letter via email to Dr. Jay Self, the campus liaison.  If not, sending it via campus mail will suffice.  (Recommendation Form)
Your application will be passed along to the campus committee, as described below.
C. Application Judgement Criteria 
Your application packet will be judged on the following characteristics:
1. Experience and Motivation:
A specific, convincing reason for your desire to intern.
Your GPA and transcript demonstrate a willingness to accept challenges and an ability to succeed under pressure.
Your education and work experience which aligns with your ideal internship placement and goals.
2. Initiative: 
Continued involvement and leadership in student organizations.
Evidence of creative problem solving and/or increasing responsibility in a co-curricular activity.
3. Written and Oral Communication Skills:
Precise language, concise structure, accuracy.
Development of a thesis throughout the statement/essay.
Attention to proper spelling, grammar, and punctuation.
Good paragraph construction.
Solid and ethical reasoning.
The Truman in Washington Program board will interview finalists. During your 20-minute interview you will be judged on the following characteristics:
Oral communication skills
Composure
Demonstration of cultural adaptability
Demonstration of ability to work with others
Demonstration of integrity and personal ethics
If you have questions about any of the above, please contact Dr. Jay Self, the campus liaison to The Washington Center.