Truman in Washington Program Alumni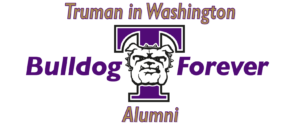 We love our Truman in Washington Program (TWP) alumni.  The TWP would like to keep in touch with you.  Please contact the Director of the TWP, Dr. Jay Self, and let us know what and how you are doing.
There are hundreds of Truman State University alumni living and working in the Washington, DC area.  They are great people and can be a great help during your internship experience.  In fact, the Mid-Atlantic Alumni Chapter often invite interns to their events and occasionally host events specifically for our interns.